Tsukigomori

(Cloudy Moon)

Information
Status
Finished
Director
Hirotaka Date
Live-action Name
An Yue
Starring
Shuuhei Hozu - (Kuu Hizuri)
Tsukigomori is a drama filmed twenty years ago and was directed by Hirotaka Date[1]. It recently had a remake filmed entitled Dark Moon which was directed by Date's son, Hiroaki Ogata[2].
Tsukigomori is a drama twisted with love and hate. The relationships between the characters are so enticingly complicated that a single episode could not be missed.[3]
Katsuki's father owed a big debt to Misao and Mio's father and chauffeured for Mizuki's parents. While he was away on a holiday, Mizuki's parents died due to a car accident, leaving Mizuki alone. Katsuki's father can't sleep and always had nightmares because of his debt to Misao and Mio's father. One night, the moon was bright and dazzling. Katsuki, who was still a child, let the moon lure him outside to view it[4].
When Katsuki returned home, his whole family had been kidnapped and murdered by a man whom he once saw before, as well as seeing his face on the dreadful night his family was murdered: Misao and Mio's father[5]. Katsuki vows to get revenge. Meanwhile, Mizuki gets adopted by his uncle, Misao and Mio's father and grew up in their household being never cared for. But, she still grew up with a bright personality.
In the present, Katsuki is now a high school teacher and Misao's fiancé; he plans to use Misao to get revenge on her family. At the same time, he also starts falling in love with Mizuki, who is a student in his class and Misao's cousin.
Mizuki starts falling in love with him too, but she knows it's not right because Katsuki is Misao's fiancé. Meanwhile, Misao's younger sister and Mizuki's cousin, Mio, who feels hatred for everyone around her, starts noticing Katsuki and Mizuki's forbidden love and becomes aware of Katsuki's plan for revenge...
Tsukigomori's lead was Shuuhei Hozu; a very good-looking actor known for his work in hero and action shows[6]. Ren Tsuruga was the who played the same part (Katsuki) in the remake however his "level" isn't considered the same as Hozu's[7].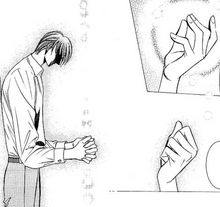 When Katsuki was a young boy, his family was suffering through debt due to his father's failing business. Through his father's friendship with a wealthy man, he became indebted to the elder Hongo patriarch (Misao and Mio's father). Katsuki's father met the younger brother of the Hongo patriarch (Mizuki's father), and soon became a chauffeur for his family, which consisted of him, his wife, and his only daughter, Mizuki[8].
Whilst on vacation, Mizuki's family got into a car accident, killing husband and his wife, but leaving the daughter orphaned. Katsuki's father wasn't harmed since he was on a holiday with his family. Katsuki's father woke up every night crying from nightmares and pleading for forgiveness. After discussing it with his wife, they went to the police to talk about the details[9].
One night, the moon was bright and dazzling. Katsuki, who was still a child, let the moon lure him outside to view it. When Katsuki returned home, his whole family was kidnapped and murdered. The family's death was ruled as a suicide on the news, covering up the fact that it was actually murder[10].
That night, Katsuki swore to himself never to reveal his identity until the time comes to get revenge on the man he saw that dark, luminescent night. Although dedicated to his revenge, he found himself falling in love with Mizuki. This fact complicated him due to his desire for avenging his family's death and his belief that he doesn't deserve any happiness[11].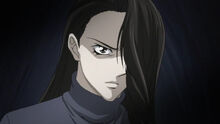 Mio is Mizuki's cousin and Misao's sister. Mio hates her mother, since she is always comparing her to her older sister, Misao[12][13]. She hates her father since she knows that he arranged for the death of his younger brother, which is something only she and Katsuki know[14].
Misao was jealous of Mio's ability to play the violin when they were younger and pushed Mio off a hill onto some broken glass, which in her getting a grotesque scar on the side of her head[15][16].
Mio became aware of Katsuki and Mizuki's attraction and growing feelings toward each other over time[17].  
Katsuki's and Mizuki's first meeting outside of school: the teacup scene. A difficult scene due to the subtle romantic tensions and Katsuki's own inner conflicts.
Reception
Edit
Tsukigomori set the record for Most Viewed Drama, which was later beaten by the remake: Dark Moon.
Differences
Edit
In order to surpass Tsukigomori, the remake features more intense and confronting interpretations of the roles.
Dark Moon follows the original story line of Tsukigomori but diverges from it about half-way through[18].
The remake Dark Moon features to two additional original episodes that were not part of Tsukigomori[19].
Reference
Edit
Ad blocker interference detected!
Wikia is a free-to-use site that makes money from advertising. We have a modified experience for viewers using ad blockers

Wikia is not accessible if you've made further modifications. Remove the custom ad blocker rule(s) and the page will load as expected.