Skip Beat! Wiki is the database where you could find everything about the Skip Beat! series created by Yoshiki Nakamura. The wiki currently has 27,394 edits on over 664 articles. Please help us by updating the existing articles or creating new ones.


The story revolves around girl named Kyoko Mogami who went with her childhood friend, Sho Fuwa, to Tokyo to pursue his dream of becoming an idol. Kyoko supported Sho by working three jobs at once every day. Until fate made it's own way when Kyoko overheard Sho saying that he only bought her to Tokyo to use her as a maid. Furious, Kyoko joins LME, the agency where Ren Tsuruga (who is Sho's rival and the number one actor in Japan) works, in hopes of achieving her goal on getting revenge on Sho. Along the way, she learns to discover herself, encounter different people and situations she never expected to be in.



ACT.224 - Pressure Change
Right at that moment, all she could think of is how Corn comforted her when they were younger. But Corn's forest isn't in Tokyo and Corn isn't there.. or is he? A tall figure suddenly appears in front of Kyoko and she immediately hugged him. Meanwhile, Yashiro and Lory are at Lory's office and have a little conversation about certain things..

Read the whole chapter summary...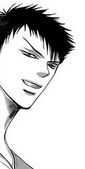 Taichirou is one of Chiori Amamiya's co-worker in the popular variety show, "Are you Serious?". He has a black spiky hair with dark-colored eyes. He also has a body with a slender and tall figure.

He takes pride in his job as a comedian/variety talent performer so he was blunt to Chiori when he thought that she was only going to work because the president in her agency considered her as their biggest 'moneymaker'.
Read more...

Follow and Like us on Facebook, Twitter and Tumblr!


Localized Versions of the Skip Beat! Wiki

Do you think Saena cares about Kyoko?
Click here to see the previous poll results.

These are the events to be looked out for April-May 2015.
April 1 - Marks as the 3rd year since the live-action drama ended and April Fool's day.
---
April 7 - Volume 34 English Release by VizMedia
---
April 11 - Volume 36 Book Signing with Yoshiki Nakamura
---
April 12 - Kenji Hamada(CV:Takenori Sawara)'s Birthday
---
April 20 - Chapter 223 release in Japan
---
May 20 - Chapter 224 release in Japan
---
May 28 - 6th year since the PS2 Game was released.
---
May 29 - Sho Fuwa's Birthday
To see old events, go here.



"I was taking too long picking apples behind the hotel... and a lion with huge claws and fangs barged in and ruined it."

—Reino taking about Kyoko and Ren

Voting

for the next featured character, image and quote for May 2015 is now

CLOSED

.

The Skip Beat! Wiki is not in anyway affiliated with the author nor the publishing company of the Skip Beat! (スキップ・ビート!) series.