Home
Talk

4
302pages on
this wiki


302 Articles · 8,949 Edits SINCE SEPTEMBER 2009
WARNING: The Skip Beat! Wiki is full of spoilers. Please read at your own risk.

The story revolves around a young girl named Kyoko Mogami who went with her childhood friend, Sho Fuwa, to Tokyo to pursue his dream of becoming an idol. Kyoko supports Sho by working three jobs at once everyday. Fate happens when Kyoko overhears Sho dismissing her as a boring wallflower. Furious, Kyoko vows to get her revenge by defeating him in the entertainment world. Along the way she meets Ren Tsuruga, the number one actor of Japan...

ACT.211 - Technicolor Paradise ~Melt Heart~

After Corn gets the "kiss of re-birth" what will Corn/Ren do now? Will Kuon finally accept himself, the whole him and let his self deserve the love he wants?

Read the whole chapter summary...

Kuu Hizuri is internationally renowned Hollywood action star. He is Kuon Hizuri's father and the husband of the famous model and actress, Juliena Hizuri.

He came to Japan to promote his movie, Pray Of Color. Kyoko was in charge of looking after him during his stay in Tokyo. He is a man with a very big appetite – he can eat food for 50 in one meal.
Read more...
Dream Star is the first opening song of the anime series. This song is used as the opening song of the anime from Episode 1-19 and 25. The song is sung by The Generous.

Who do you want Kyoko to end up with?

These are the events to be looked out for March-April 2014.

Click "Collapse" to close the content.

✩✩✩✩✩✩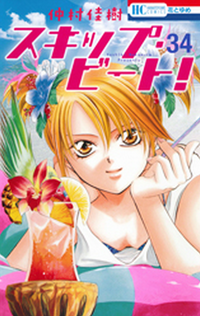 ---
March 20, 2014 - ACT.210 and Volume 34 Release in Japan
---
March 29, 2014 - Marks as the 5th year since the anime ended.
---
April 1, 2014 - Marks as the 2nd year since the drama ended and April Fool's day.
---
April 20, 2014 - ACT.211 Release in Japan
To see old events, go to Skip Beat Wiki:Old Events
Voting for the next featured character, song and image for February-March 2014 is now

CLOSED

.
---
Nomination for the next featured character, song and image is still open for March-April 2014