The story revolves around girl named Kyoko Mogami who went with her childhood friend, Sho Fuwa, to Tokyo in order to pursue his dream of becoming an idol. Kyoko supported Sho by working three jobs at once every day. It all stopped until fate made it's own way when Kyoko overheard Sho saying that he only took her to Tokyo with him to use her as a maid. Furious, Kyoko joins LME, the agency where Ren Tsuruga (who is Sho's rival and the number one actor in Japan) works, in hopes of achieving her goal on getting revenge on Sho. Along the way, she learns to discover herself, encounter different people and situations she never expected to be in.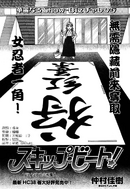 ACT.237 - Samurai and Hunter

Ren flies to Guam to complete his role in Tragic Marker. He finally receives the text from Kyoko he's been hoping for, but doesn't know how to react. Kyoko meets the famous Kotetsu Uesugi in order to begin training for her audition for the role of Momiji.

Read the whole chapter summary...


Toudou is a co-worker of Saena Mogami from Viride General Law Office. Toudou was the person who handed Kyoko's letter to Saena and the person who arranged Kyoko's appointment with Saena.

Toudou appears to be professional and logical, which to be expected as he is a lawyer. He seems to be genuinely care or interested in Saena and Kyoko's relationship. His first name is still unknown.
Read more...

Follow and Like us on Facebook, Twitter and Tumblr!


Localized Versions of the Skip Beat! Wiki


What do you want do happen?
Click here to see the previous poll results.

These are the events to be looked out for during Fall 2016.


Aug 27 - Vic Mignogna(Yukihito Yashiro)'s Birthday
---
Sep 6 - Volume 37 published in English
---
Sep 20 - Chapter 240 published in Hana to Yume
---
Oct 15 - Lee Donghae(Sho Fuwa/Bu Po Shang)'s Birthday
---
Oct 23 - Bianca Bai(Kanae Kotonami/Jiang Nan Qin)'s Birthday
---
Nov 12 - Ivy Chen(Kyoko Mogami/Gong Xi)'s Birthday
---
Nov 16 - Caitlin Glass(Kyoko Mogami)'s Birthday



"I need to improve myself. I must become someone I can be proud of. I can't afford to put things like love and affection first."

-Kyoko to Sho about her feelings for Ren

Voting for the next featured character, image and quote is now CLOSED.

The Skip Beat! Wiki is not in anyway affiliated with the author nor the publishing company of the Skip Beat! (スキップ・ビート!) series.