Home
Talk

5
660pages on
this wiki

Skip Beat! Wiki is the database where you could find everything about the Skip Beat! series created by Yoshiki Nakamura. The wiki currently has 26,727 edits on over 660 articles. Please help us by updating the existing articles or creating new ones.


The story revolves around girl named Kyoko Mogami who went with her childhood friend, Sho Fuwa, to Tokyo to pursue his dream of becoming an idol. Kyoko supported Sho by working three jobs at once everyday. Fate happened when Kyoko overheard Sho saying that he only bought her to Tokyo to use her as a maid. Furious, Kyoko joins LME, the agency where Ren Tsuruga (who is Sho's rival and the number one actor in Japan) works, in hopes of achieving her goal on getting revenge on Sho. Along the way, she discovers her self, meet new people and find herself in situations she'd never expect to be in.



ACT.221 - Crystal Storm
Ren is back in Japan to do some temporary work. Kyoko is still a bit troubled on the incident seeing Saena but tries to ignores it as she knows that Ren is finally back. Meanwhile at the LME Buildings, Lory is so immersed into a show that is broadcasting in the TV that he couldn't get his eyes off it. It's not his favorite love drama.. What might it be?

Read the whole chapter summary...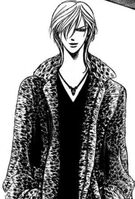 Reino is the lead vocalist of the band called Vie Ghoul. He has an interest on Kyoko Mogami because of her "demonic beauty" as Mio as well because of her apparitions.

He also has a gift for psychic photography and claims he can cleanse out evil. Reino is also rather bizarre, as seen when he was sleeping in a coffin surrounded by roses. He prefers women with dark auras, which led his initial interest at Kyoko when she was portraying Mio but his admiration soon faded when Kyoko returned to her normal self, which Reino described as 'plain' and 'boring'.
Read more...

Follow and Like us on Facebook, Twitter and Tumblr!


Localized Versions of the Skip Beat! Wiki

Do you think Saena cares about Kyoko?
Click here to see the previous poll results.

These are the events to be looked out for January-February 2015.
January 1 - New Year
---
January 20 - ACT.220 release in Japan
---
January 20 - Marina Inoue(CV: Kyoko Mogami)'s Birthday
---
February 10 - Ren Tsuruga and Choi Siwon(Live-action Ren Tsuruga)'s Birthdays
---
February 14 - Valentines' Day (Vain Day for Love Me Girls)
---
February 15 - Officially marks as the 13th year since the manga started serializing on Hana to Yume
---
February 20 - ACT.221 release in Japan
---
February 28 - Risa Hayamizu(CV: Kanae Kotonami)'s Birthday
To see old events, go here.



"With neither light or shadow in my life, the picture of the boundless future that is now visible to my eyes is full of splendor."

—Ren's message to Lory

Voting

for the next featured character, image and quote for March 2015 is now

CLOSED

.