Home
Talk

5
563pages on
this wiki

563 Articles · 18,197 Edits SINCE SEPTEMBER 2009
WARNING: The Skip Beat! Wiki is full of spoilers. Please read at your own risk.

The story revolves around a young girl named Kyoko Mogami who went with her childhood friend, Sho Fuwa, to Tokyo to pursue his dream of becoming an idol. Kyoko supports Sho by working three jobs at once everyday. Fate happens when Kyoko overhears Sho dismissing her as a boring wallflower. Furious, Kyoko vows to get her revenge by defeating him in the entertainment world. Along the way she meets Ren Tsuruga, the number one actor of Japan...

ACT.216 - Tiny Monsoon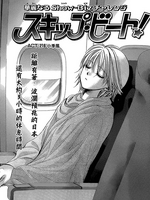 Kyoko is now back at Japan. Yashiro-san picks her up at the airport and they talk about Ren's true identity. Will they find out anytime soon what Ren's real name is? Meanwhile, Sho is still at the Darumaya shop waiting for Kyoko. Why is he there in the first place? What does he want from Kyoko?

Read the whole chapter summary...

Ren Tsuruga is an actor working for the entertainment company LME. He is Japan's most desirable man.

Ren is very strong willed, a bit childish and short-tempered (something only Kyoko and Yashiro seem to notice). He is also a people pleaser, and often hides his feelings with his "gentleman smile" which works most of the time (except for Kyoko and Yukihito who are able to see through his smile).
Read more...
Follow and Like us on Facebook, Twitter and Tumblr!

Localized Versions of the Skip Beat! Wiki

What is your favorite role that Kyoko played?
Click here to see the previous poll results.

These are the events to be looked out for September-October 2014.

September 5, 2014 - ACT.215 release in Japan
---
September 19, 2014 - Volume 35 release in Japan
---
September 20, 2014 - ACT.216 release in Japan
---
September 30, 2014 - 5th Year Anniversary of the Skip Beat! Wiki
---
October 8, 2014 - 6 years since the anime adaptation started
---
October 15, 2014 - Donghae's (Sho Fuwa) birthday
---
October 20, 2014 - ACT.217 release in Japan
---
October 23, 2014 - Bianca Bai's (Kanae Kotonami) birthday
---
To see old events, go here.

"I'm not particularly grateful, but.. It's common sense for a person to at least say the word of thanks. It's such a troublesome task, but I send you my praise."

—Kyoko Mogami to Sho Fuwa
[src]
Voting for the next featured character, image and quote for October-November 2014 is now

OPEN

.