Home
Talk

5
427pages on
this wiki

427 Articles · 14,087 Edits SINCE SEPTEMBER 2009
WARNING: The Skip Beat! Wiki is full of spoilers. Please read at your own risk.

The story revolves around a young girl named Kyoko Mogami who went with her childhood friend, Sho Fuwa, to Tokyo to pursue his dream of becoming an idol. Kyoko supports Sho by working three jobs at once everyday. Fate happens when Kyoko overhears Sho dismissing her as a boring wallflower. Furious, Kyoko vows to get her revenge by defeating him in the entertainment world. Along the way she meets Ren Tsuruga, the number one actor of Japan...

ACT.212 - Technicolor Paradise ~Time Shift~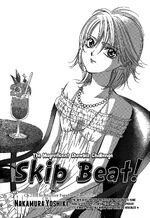 On their first visit on the southern islands, Guam. Their encounter is something else? How did the fairy prince Corn suddenly disappeared? Jelly calls Kyoko to join her and "Cain" for dinner, what is their reaction after the kiss?

Read the whole chapter summary...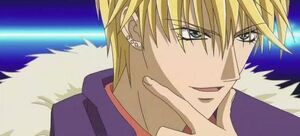 Sho Fuwa is one of the best musicians in Japan. Sho keeps his real name a secret because he finds it very old-fashioned and traditional. He had no qualms about tricking Kyoko into going with him to Tokyo so she could act as a servant for him and support him monetarily while he makes his name in showbiz
Read more...
Follow and Like us on Facebook, Twitter and Tumblr!

Localized Versions of the Skip Beat! Wiki

Who do you prefer the most?
Click here to see the previous poll results.

These are the events to be looked out for May-June 2014.



May 20, 2014 - ACT.212 Release in Japan
---
June 8, 2014 - Mamoru Miyano (Sho Fuwa's seiyū)'s birthday
---
June 20, 2014 - ACT.213 Release in Japan
---
To see old events, go here.

"Tsuruga-san went as far as to put that thing into a rose… Just because he wanted to give you a present. That's…. Obviously… A declaration of his intentions, don't you think?"

—Kanae Kotonami
[src]
Voting for the next featured character, image and quote for June 2014 is now

OPEN

.