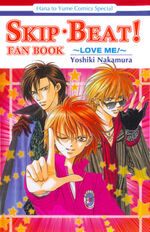 Skip Beat! Fanbook - Love Me! is a special comic book published by Hakusensha, written by Yoshiki Nakamura. It was released on February 19, 2009 in Japan. The fanbook has 176 pages.
Information
Edit
The Skip Beat! Fanbook - Love Me! includes items like photographs and lists all the information about the Skip Beat! manga series.[1]
Here is a list of what the Skip Beat! Fanbook has:
Illustration Gallery 1 | Skip Beat! Portrait ~Frame Out~
Illustration Gallery 2 | Skip Beat! Portrait ~Frame In~
Greetings
Prologue
Stage 1 - Main cast & Quest

Kyoko Mogami
Ren Tsuruga
Sho Fuwa
Kanae Kotonami

Stage 2 - Subcast & Showbiz

Special Feature 1 | LME Lock On!
Special Feature 2 | Show-biz World Power Hitter

Stage 3 - Playlist and Guide
Stage 4 - Past & Episode

ACT.X - Lucky Number "25" After ~Sweet Bitter~
TV Anime | Exciting Heat Up!
Love Me | Voice Actors Show!
Nakamura-sensei's Q & A

Stage 5 - Best and Contest

Episode Rankings | Most Loved Moments

Epilogue - Kyoko's Famous (Perplexing) Lines
References
Edit
Ad blocker interference detected!
Wikia is a free-to-use site that makes money from advertising. We have a modified experience for viewers using ad blockers

Wikia is not accessible if you've made further modifications. Remove the custom ad blocker rule(s) and the page will load as expected.