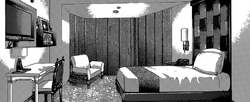 Royal Mikkou is the hotel where Kyoko Mogami, Jelly Woods, Ren Tsuruga and Taira Murasame[1] stayed during their stay at Guam.
Kyoko's Hotel Room
Edit
On Kyoko's room, there is a single bed, an armchair, television, bathroom and a closet. There are also Japanese ornaments on Kyoko's room, making it seem that the room was designed for a Japanese in the first place.[2] At her window, she could see an amazing ocean view of the beach[3], where she got the courage to go to the ocean and sees her fairy prince once again.[4]
References
Edit
Ad blocker interference detected!
Wikia is a free-to-use site that makes money from advertising. We have a modified experience for viewers using ad blockers

Wikia is not accessible if you've made further modifications. Remove the custom ad blocker rule(s) and the page will load as expected.