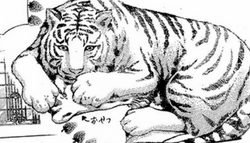 Miyuki-chan is a female, adult white tiger from one of Sho Fuwa's CM.[1] Shoko Aki, Sho's manager, used Miyuki-chan as an excuse to get him away from the special Dark Moon interviews on the television with Kyoko Mogami and Ren Tsuruga in it.[2] She claimed he still smelled of the tiger and needed to shower again.
References
Edit
Ad blocker interference detected!
Wikia is a free-to-use site that makes money from advertising. We have a modified experience for viewers using ad blockers

Wikia is not accessible if you've made further modifications. Remove the custom ad blocker rule(s) and the page will load as expected.