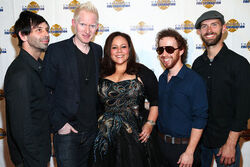 Magnolia Memoir performs four songs from the Skip Beat! anime in English for the upcoming dub. They are a vintage band based in Los Angeles, California and are fronted by Mela Lee.
The four songs they re-recorded are "Dream Star," "Renaissance," "Burnin' Down," and "Prisoner."
Ad blocker interference detected!
Wikia is a free-to-use site that makes money from advertising. We have a modified experience for viewers using ad blockers

Wikia is not accessible if you've made further modifications. Remove the custom ad blocker rule(s) and the page will load as expected.