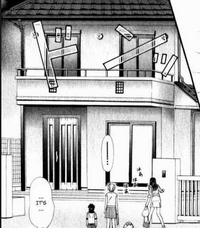 The Kotonami Household is where Kanae Kotonami lives along with her whole, large family. The house is double-story. Kanae's room has a card as a key, in order to keep her two older brothers and her other siblings from entering and using her room. The house fits Kanae's father, mother, two older brothers, one older sister, seven younger siblings, six nieces and nephews and two sister-in-laws.
Ad blocker interference detected!
Wikia is a free-to-use site that makes money from advertising. We have a modified experience for viewers using ad blockers

Wikia is not accessible if you've made further modifications. Remove the custom ad blocker rule(s) and the page will load as expected.